The delicate westringia is a type of mint that's native to Australia. It is popular with gardeners because it can be used for a wide variety of purposes. Whether it's planted to fill sparse flowerbeds, enhance hedges or add interest to retaining walls, it can be relied on for rapid growth and abundant blooms. Westringia flowers easily and often which makes it a hit with keen growers and tenders across the country.
If you're looking for affordable online plants that can deliver maximum bloom for minimum effort, you can't go wrong with westringia. It is a wonderfully hardy species that can withstand a variety of climates from the arid to very humid. It has a tolerance for cold, frost, drought and moisture. Plant yours in a sunny spot and it'll pretty much handle anything.
Picking the Right Variety of Westringia
Common varieties of westringia include Blue Gem (westringia hybrid), Naringa (westringia hybrid), Aussie Box (westringia hybrid), Grey Box (westringia fruticosa), Low Horizon (westringia fruticosa) and Mundi (westringia fruticosa).
Of these varieties, Naringa grows the tallest and can reach a height of around 2.2m. Low Horizon is the smallest of the bunch with a maximum height of approximately 30cm. If it's groundcover you're looking for, Naringa and Mundi are the best choices as they can reach a maximum width of 1.5m.
Blue Gem – blue purple flowers, best for garden edging and retaining walls
Grey Box – white flowers, ideal for box plantings as it is extremely drought resistant
Low Horizon – white flowers, a great choice for flowerbeds and covering sparse areas
Mundi – white flowers, a highly effective lure for butterflies and bees
Naringa – mauve flowers, suitable for screens and tolerant of coastal conditions
Aussie Box – mauve flowers, suits both low maintenance growth and box gardens
Varieties: Westringia Fruticosa Prostrate, Westringia Fruticosa Variegated, Westringia Funky Chunky, Westringia Glabra Cadabra, Westringia Jervis Gem, Westringia Lilac and Lace, Westringia Longifolia, Westringia Naringa, Westringia Smokey, Westringia White Rambler, Westringia Wynyabbie Gem, Westringia Aussie Box, Westringia Blue Gem, Westringia Fruticosa Coastal Rosemary, Westringia Grey Box, Westringia Mauve Skies

Choosing the Right Growing Spot for Your Westringia
Once you've picked the perfect online plants, consider the best way to welcome them to your garden. Westringia is highly versatile but it grows most successfully in full sunlight with fast-draining soil. Although it will cope in partial shade and/or sandy coastal conditions.
As this low maintenance mint will happily flourish in a variety of spots, there's not much you can't use it for. When flowering (as it does throughout much of the year), it looks as exquisite in colourful box hedging as it does in embankments and pots.
One important thing to remember is westringia's strong appeal to bumblebees, butterflies and smaller birds. We encourage you to plant this charming species liberally in your garden and provide a safe haven for local wildlife.
Blue Gem™ – Grows up to 1.5 metres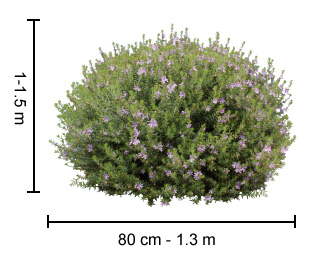 Grey Box™ – Grows up to .45 metres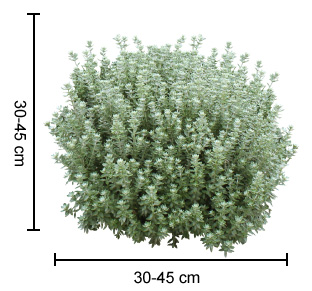 Low Horizon™ – Grows up to .3 metres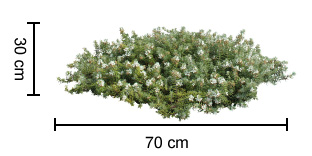 Mundi™ – Grows up to .5 metres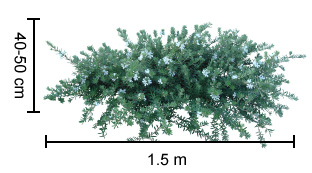 Aussie Box® – Grows up to .95 metres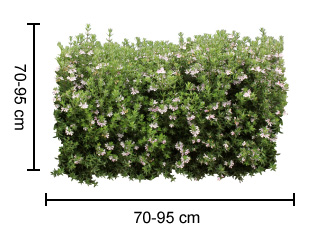 Naringa™ – Grows up to 2.2 metres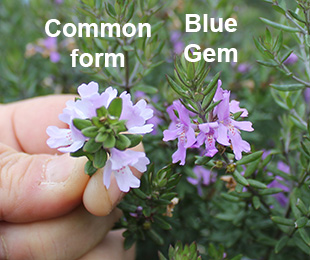 Blue Gem™ Westringia flowers profusely in spring, and regularly at other times of the year with bluish-purple flowers,

Grey Box™ Westringia provides great colour contrast with grey foliage and white flowers,

Low Horizon™ Westringia has much shorter internodes and a flat habit, making it the lowest maintenance ground cover Westringia.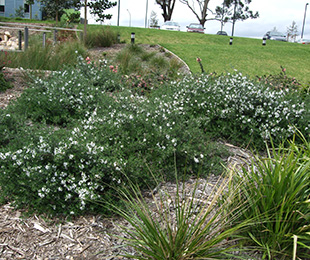 Mundi™ Westringia is ideal for tough roadsides or where you need a low growing plant that requires minimal care,

Aussie Box®
Ozbreed Aussie Box® Westringia can be pruned into a box hedge or left in its natural ball shape whilst staying compact and tidy.,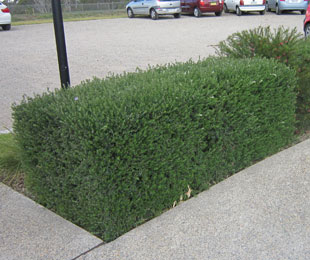 Naringa™ Westringia is the best hedging Westringia available for medium to tall hedges.,